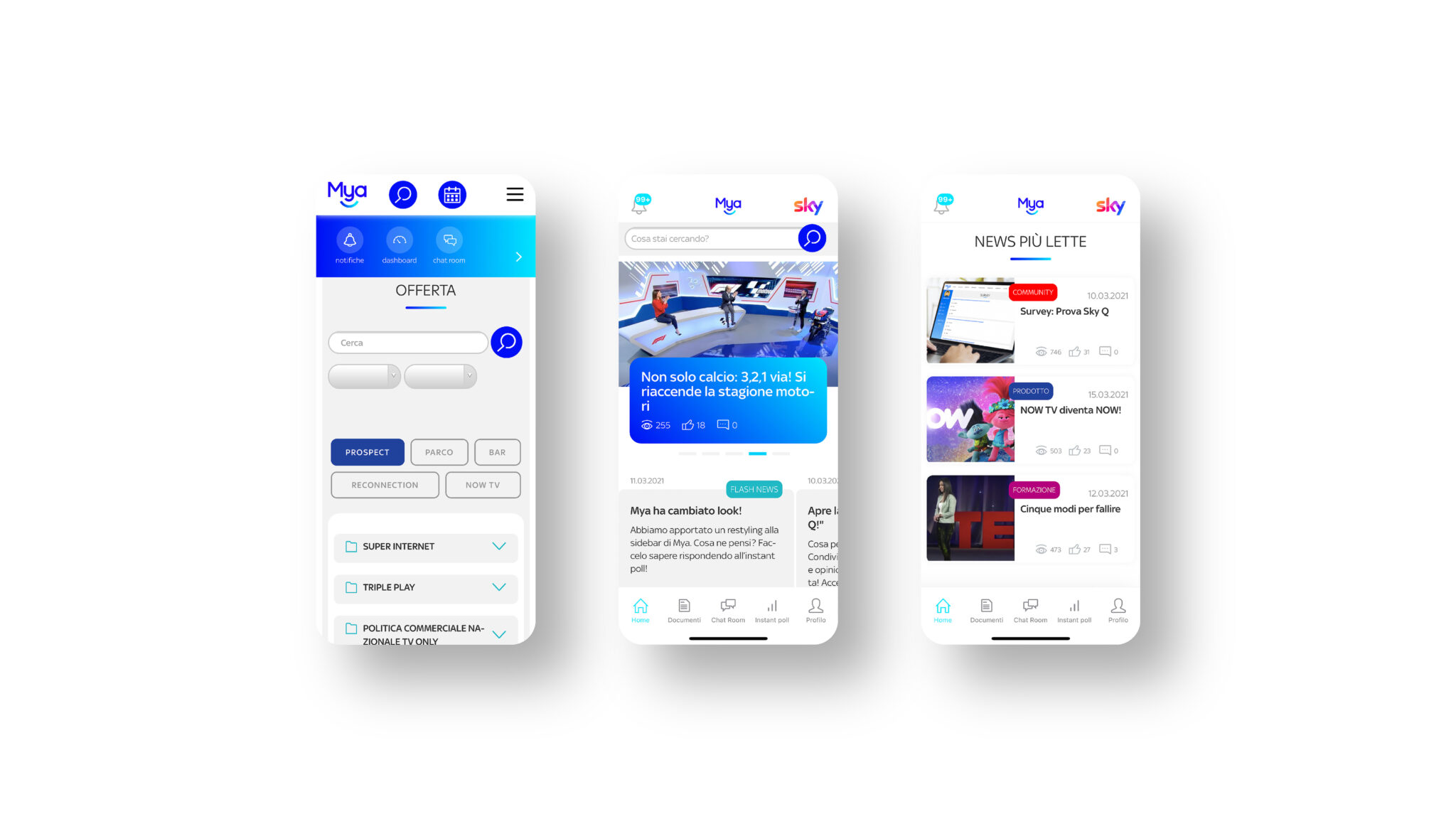 SERVICES
Community Building
Digital Design
Strategy
Sky Italia's Retail & Service Network Business Community.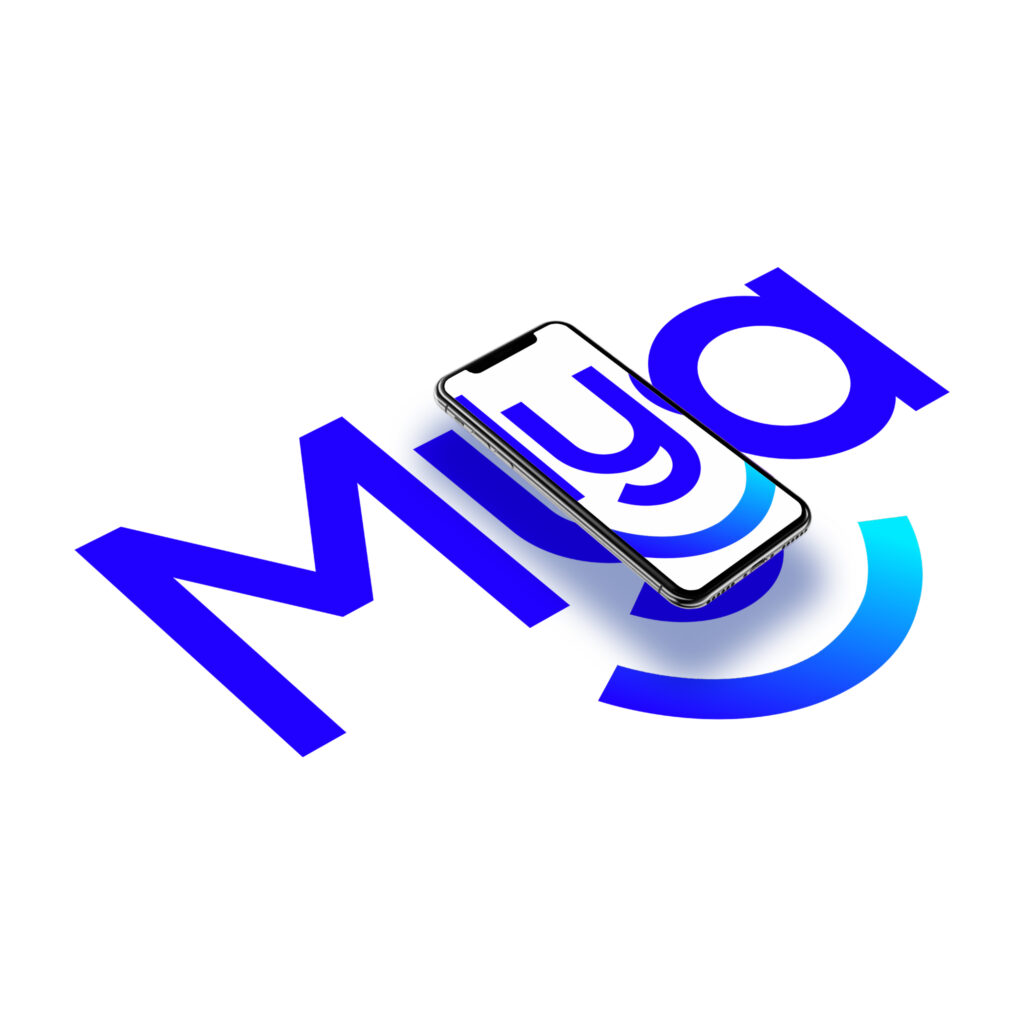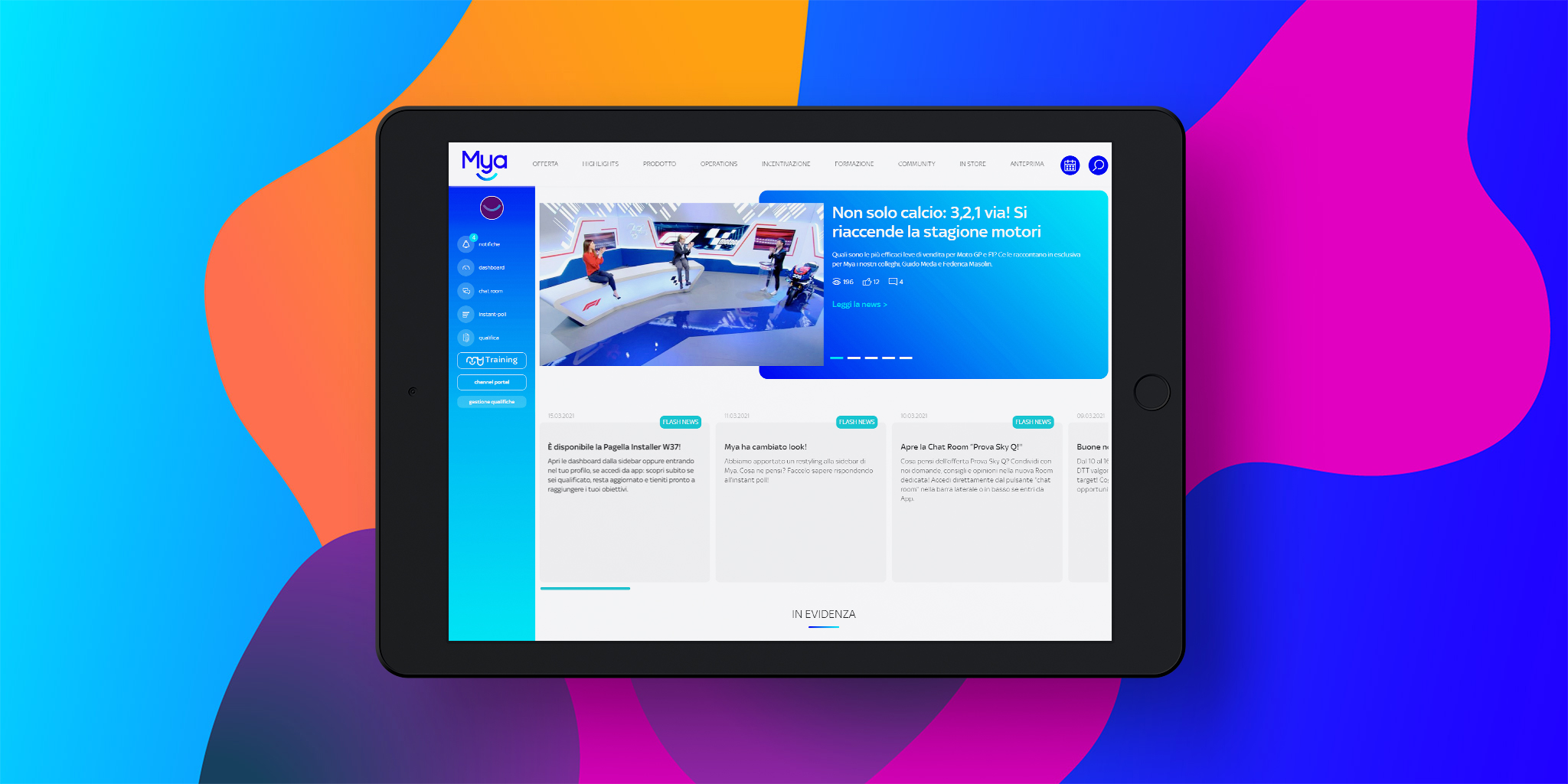 THE CHALLENGE
An experience built around people
So why launch during lockdown? Why not postpone to a more peaceful time?
MYA is dedicated to almost 4000 users: sellers, installers and sales points – all gathered together within a virtual space. It's designed to support each one in their daily work. But it doesn't end there. This business community was also created to address a further need – that of bringing closer, and strengthening, the link between SKY and its collaborators in the field.
It's precisely at this moment of distancing that people feel the need to get close: via a videocall with friends, through (re)new neighborhood radio or with the help of some business community. Covid-19 emergency has meant that the MYA launch didn't go ahead on the best day for celebrations. Still, it responded to a yet deeper need: the right time had arrived to start connecting.
During this lockdown we aim to demonstrate that when speaking of digital we're inevitably talking about people, their needs and the desire to be part of a group. Here, certainly, the response we received was greater than expected.
THE SOLUTION
Digital
with a human touch
MYA is a business community, yes, but it's a friendly face too. That explains the choice of giving it a "human" identity with today's main virtual assistants. A personal name, a logo with a symbol reminiscent of a smile, a tone of voice that's both reassuring and respectful – all elements designed to welcome anyone who joins up, setting them at ease.
MYA is a flexible tool that's fully responsive, containing all the materials and contents useful for carrying out both sales and after-sales work in the field. These are integrated within a platform that's dedicated to technical and product training, paying special attention to interaction and feedback exchange.
Available also in its app version, it represents the present and future of any sales network that's operating to its fullest potential.
THE LAUNCH
Participation immediately proved to be high.
People were awaiting a space (albeit digital) to meet colleagues, exchange a few lines and find reliable news on the upcoming reboot – all within a new working dimension which, at Logotel, we call Ne(x)tworking. They found all this on MYA, as well as an added level of service: exclusive sections for further developing one's skills, even from home, and including advice on how to manage new time "earned" the smart way.