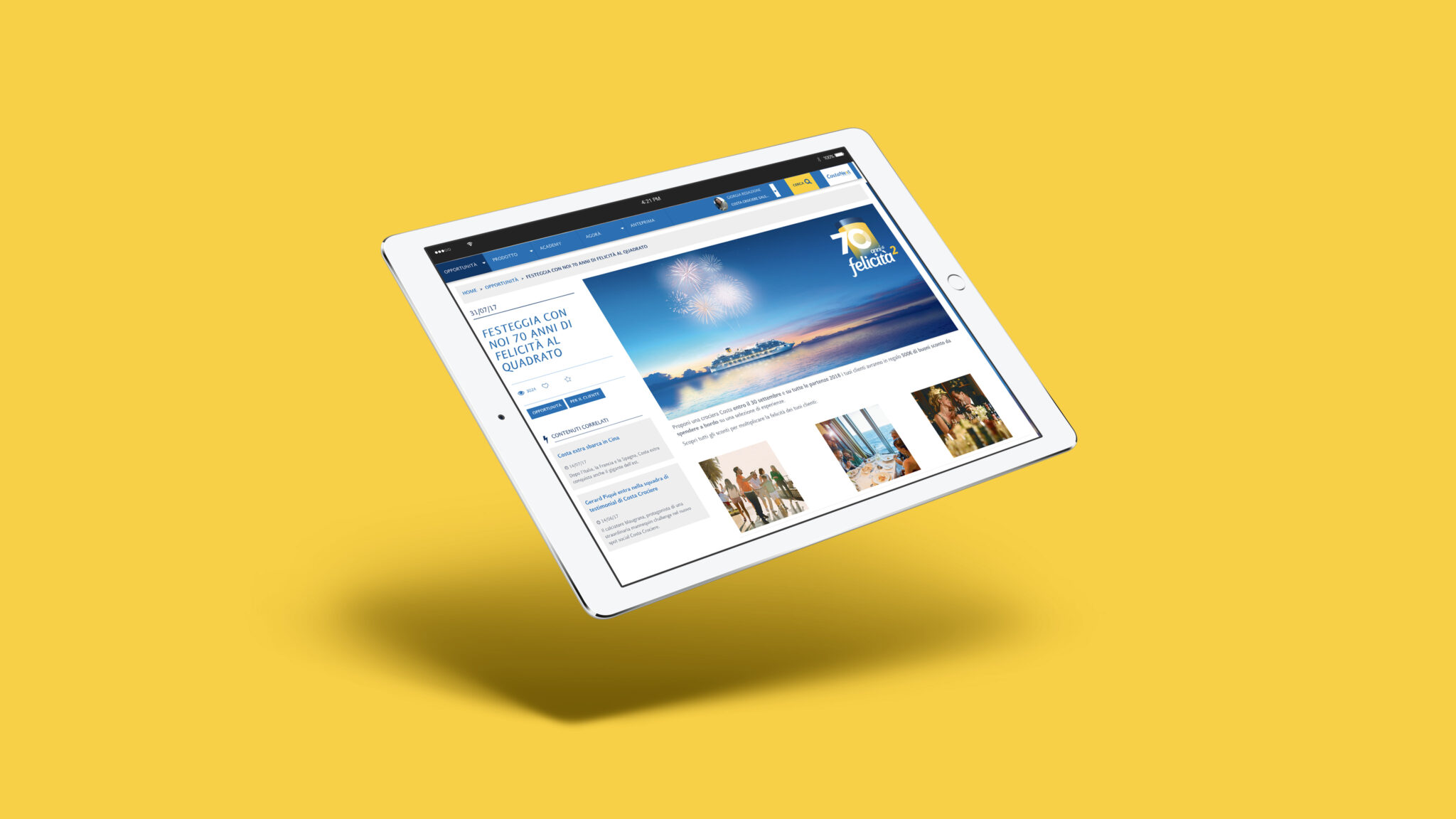 SERVICES
Content Creation
Digital Design
Learning Design
The Costa Cruises Business Portal in 47 countries around the world.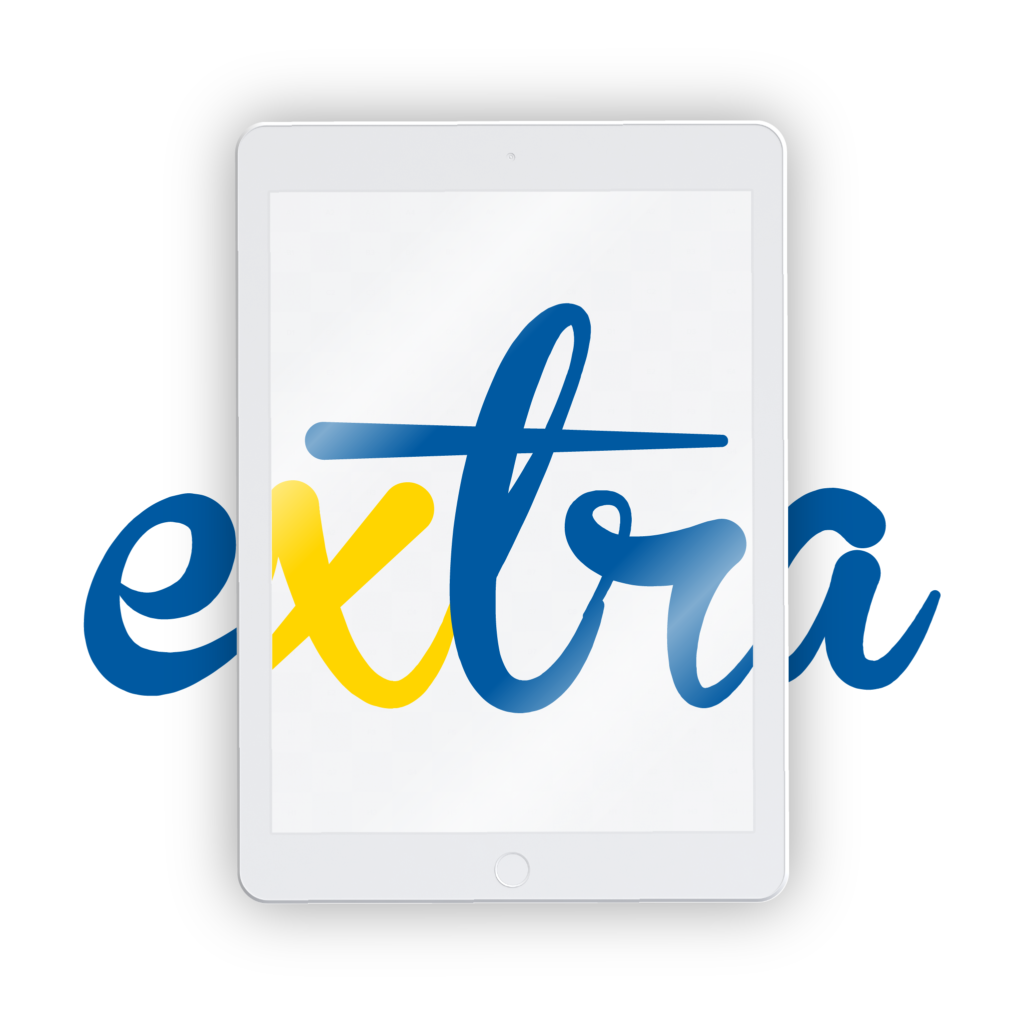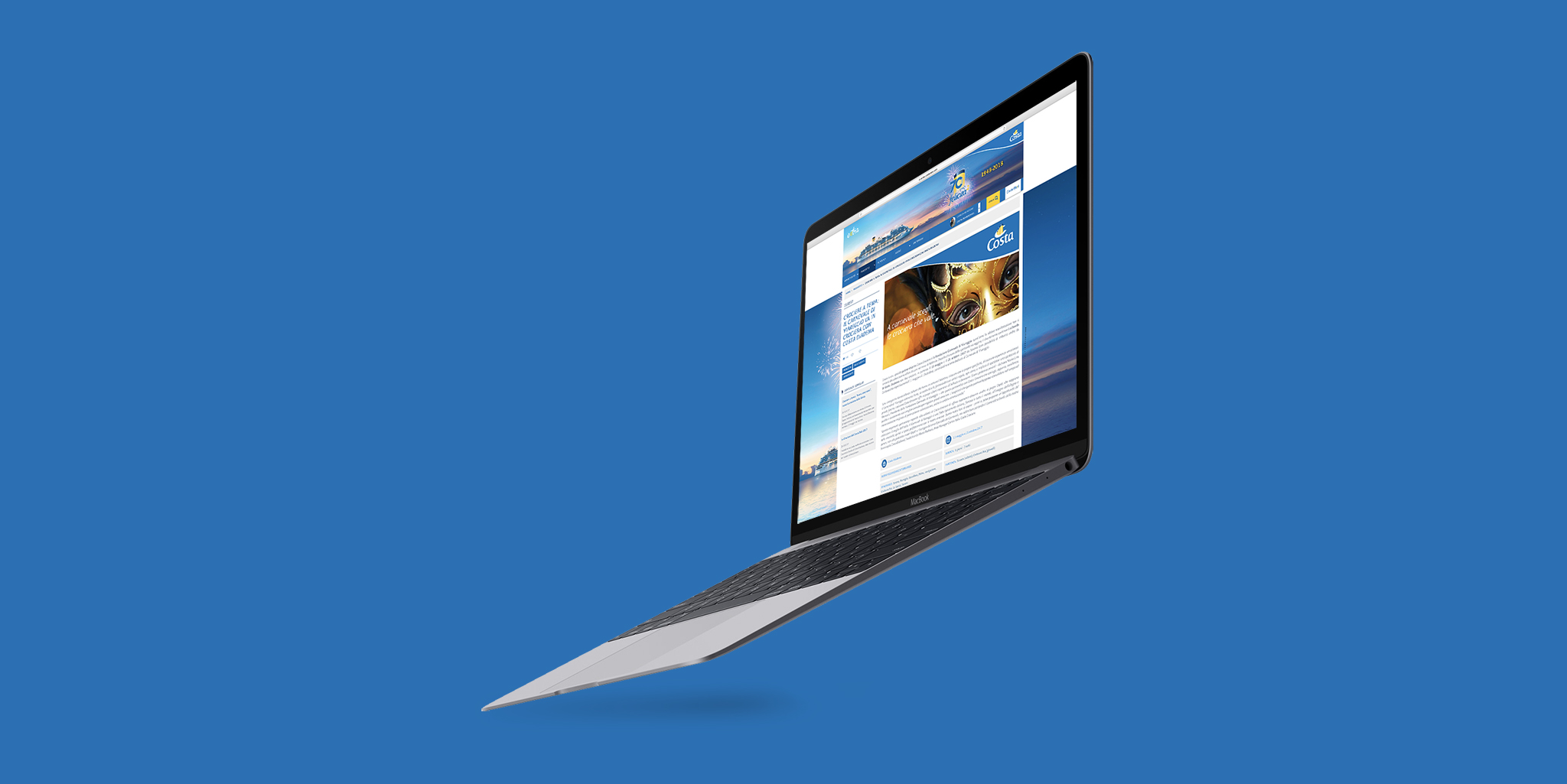 THE CHALLENGE
Constant contact with Travel Agencies.
Costa Cruises has no distribution network of its own; it uses thousands of agencies big and small throughout each market. In 2017 the channel of the agencies covered 85% of Costa's sales (1.8 million out of 2.1 million total guests) and in 41% of cases used the Booking on line, one of the Costa extra business portal's tools.
Costa extra springs from Costa Cruises' desire to maintain and foster constant valuable contact with the travel agencies and individual travel agents. The company wanted to offer them useful, exclusive services, content and tools with a fast, reliable channel for training, exchanging ideas, and listening to their needs on digital, marketing, communication, problem-solving, monitoring and sales matters.
THE SOLUTION
Making a system with the people of the network.
Costa extra was created by a multidisciplinary team of service designers, training and e-learning experts, community managers, digital designers, web developers and data analysts. It debuted in Italy in 2013.
Logotel used its People-focused approach to support the Costa Cruises Sales & Marketing department in creating the Costa extra business portal.
The two teams worked side by side to design a digital environment that gives Costa Cruises a unique and highly differentiating ability to work synergically with the people in its distribution network. It enables everyone to develop and to become more competitive in increasingly innovative and future-proof ways.
THE PROJECT
More than 30,000 Travel Agents around the world.
The business portal aims to facilitate the travel agents' operational tasks, to optimise information flows, and to make a real difference in their everyday work. Editorial content and tools about the products and offers is published daily.
The project has developed year by year into a tool and service hub.
Since 2016, Costa extra has also included the Costa Academy, a multi-level points-based training pathway covering topics from agency marketing to sales, digital and social media.
share success stories and stay in touch with the Costa world.
TIMELINE
Another 43 countries in 5 years.
Within two years the Community has also expanded in France and Spain with the go live of Costaextra.fr and Costaextra.es including the presence of a Logotel editorial staff at the Costa Crociere's Headquarters in Paris and Madrid. From July 6th 2017 the community also reached China: Costaextra.cn is the mobile-first platform that provides a new focus for all Costa Cruises' business-development efforts in the Far East.
The 25th of June 2018 Costa extra reached another 43 countries in which Costa is aiming to spread its product: from Scandinavia to Russia, from Poland to Austria and Switzerland, aiming also India and all countries in Central Europe and in the Mediterranean sea.
Business Portal Versions

5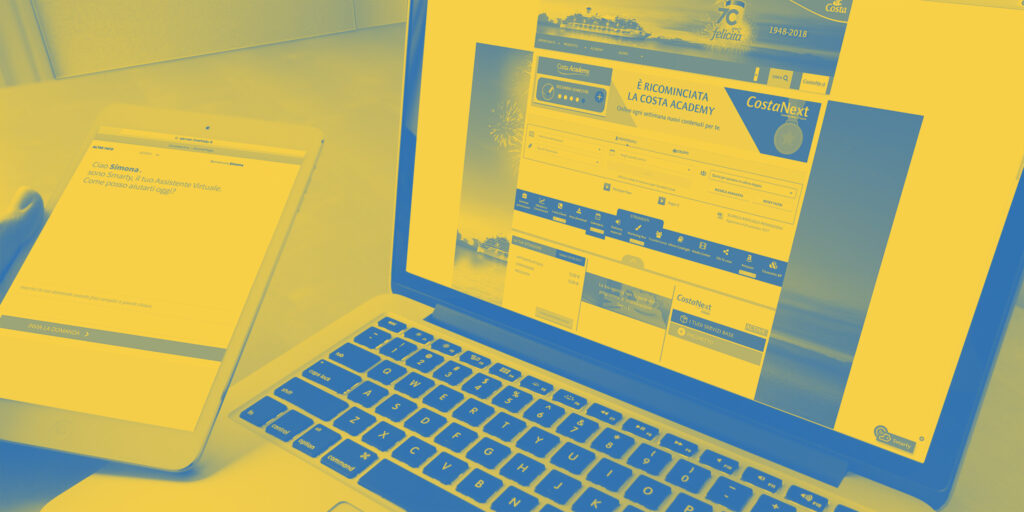 The value of Logotel is given by the very nature of this company, made of entrepreneurs and courageous people, always ready to embark on new challenges, new contexts, outside their comfort area. Not only excellent performers able to transpose and understand our briefs on the fly and transform them into valid solutions, but also bearers of cues, ideas, examples, alternatives that come from many years of experience and continuous research.
STEFANO PESCE
Head of Digital Trade
Worldwide Channels Strategy & Commercial Operations